W MALDIVES PRESENTS 'FIT WITH TARA STILES'
THE FOUNDER OF STRALA YOGA
W Hotels Worldwide first ever fitness program, FIT with Tara Stiles, comes back to the Maldives on June 14-16. In partnership with the industry's yoga rebel, FIT with Tara Stiles flips the traditional idea of fitness on its head with a non-traditional approach to working out while on the road.
Tapped to create the exclusive in-room workouts for the FIT program, Tara Stiles – founder and owner of Strala Yoga, the high-energy movement system that ignites freedom – locked herself in the suites of several W Hotels and imagined the needs of the W traveler. Her non-purist take on yoga offers a refreshing alternative to tradition and offers a modern spin on the beloved practice. The result is four exclusive workouts that will be printed on in-room tip cards and available via video in every W room and suite around the world. The workouts include:
Need a Boost? Whether you want to kick-start your day or night, give your body an energetic lift with a quick yoga fix. Try dancer pose for an instant surge of vitality.
Feeling Jet-Lagged? Get relaxed and ready to rock straight from the runway with a quick yoga fix. Try pigeon pose to open your hips and soothe your back.
Big Night Out? Get amped for evening by adding a quick yoga fix to your primping routine. Try an easy side stretch to get you relaxed and ready for party-mode.
Need to Recover? Whether feeling tired or had one-too-many the night before, amp up energy with a quick yoga fix. Try an easy, seated twist for an instant boost.
To learn more about FIT with Tara Stiles, explore this link.
FIT Gets Personal: Four exclusive yoga sessions with Tara Stiles.
For those guests who want a more luxurious and physically extensive experience, Stiles will host four exclusive yoga sessions in such locations as the Retreat's beach, Gaathafushi desert island, AWAY Spa and Extreme WOW Ocean Haven suite.
SUNSET YOGA SESSION
JUNE 14 / 5:30 PM - 6:30 PM
FIRE BEACH
Price: Complimentary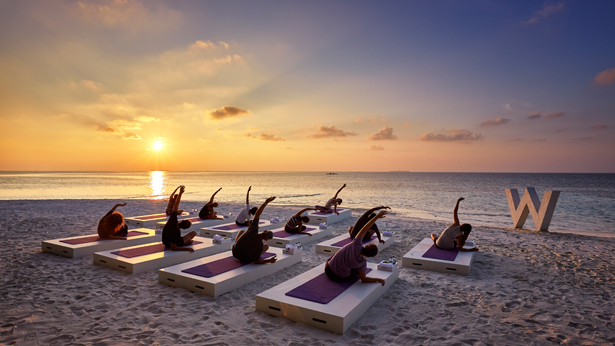 SUNRISE YOGA SESSION INCLUDING CHAMPAGNE BREAKFAST
JUNE 15 / 6:00 AM - 8:00 AM
Price: USD 65++ per person and includes 2 glasses of Champagne*
*Prices are subject to 10% service charge and 12% GST.