TRANSPORTATION INFORMATION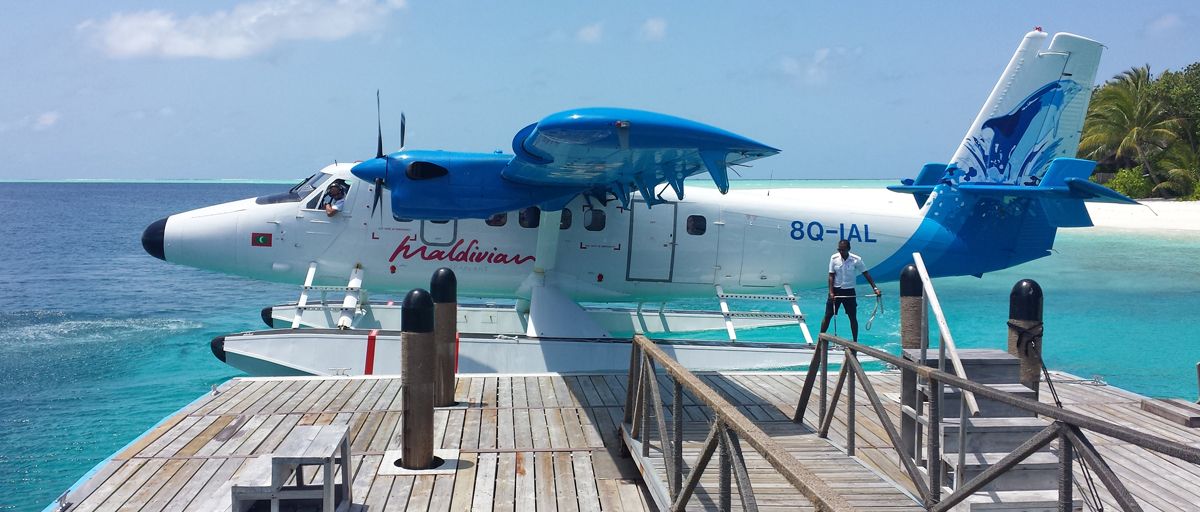 WELCOME > GET IN THE KNOW > TRANSPORTATION
Dive into your W Maldives getaway the moment we meet you at Velana International Airport. Our Welcome Agents will assist you with check-in for your Maldives seaplane transfer and transport you to our very own W Lounge at the seaplane terminal. Freshen up after your flight to the Maldives, sit back and listen to what's new/next from a selection of our W DJ's soundtracks or let us prepare coffee and snacks for you whilst you await your flight to W Maldives.
Get your camera ready for the scenic ride to W Maldives – the views from the Maldivian Airways seaplane are beyond your wildest imaginations.
We will need your arrival information to Male' airport so we can make reservations on the 15-seater seaplane.
Kindly share your flight details with our team 72 hours in advance by clicking here, we will take care of everything.
Round-trip cost is US$ 475 per adult while US$ 235 per child between 3-12 years old. Children under 3 years old travel for free.


Travel time: approximately 25 to 40 minutes (some flights stop at another island before W Maldives)
Please note:
There is a baggage limit of 25 kilograms per person.

Seaplanes only operate between 6:00AM to 3:30PM based on scheduled timing and current weather conditions.

The hotel will not take responsibility for supplementary charges incurred as a result of seaplane transfers being cancelled by Maldivian Airways.
For flights arriving or departing between 3:30PM to 6:00AM due to unavailability of seaplane, the resort can arrange an alternative mode of transportation from/to airport (MLE) via speedboat.
Kindly shared your flight details with our team by clicking here, we will take care of everything.
Total journey time is approximately 1.5 hours - depending on weather conditions. The speedboat can take up to a maximum of twelve guests per boat including luggage. The timing and pricing of the speedboat transfer is as follow:
Shared / Scheduled Speedboat Transfer From/To Airport

From W to Airport (MLE) at 07:00PM

From Airport (MLE) to W at 11:00PM

US$ 350++ per person per way

A minimum of 4 passengers are required
Private Speedboat Transfer From/To Airport
Per Flight Details Given

US$ 1,400++ per boat per way

Limited to 4 passengers per way
Read more about Terms & Conditions
Escape - W Maldives luxurious private yacht
While cruise through the night the guests can enjoy a romantic dinner under the stars followed by a pleasant sleep and arrive fresh at W in the morning.
All rates marked ++ are subject to 10% service charge + GST Tax.
Contact our Welcome team on +960 666 2222 or our Reservations Team at reservations.wmaldives@whotels.com for more details on your transfer.